It all started with a small(ish) boy with a large-ish head. He was born 9 lbs 4 oz, and his head probably accounted for 8 of those pounds. He had a ginormous head. It had it's own weather system. It looked like an orange on a toothpick.
Seriously though, it was big.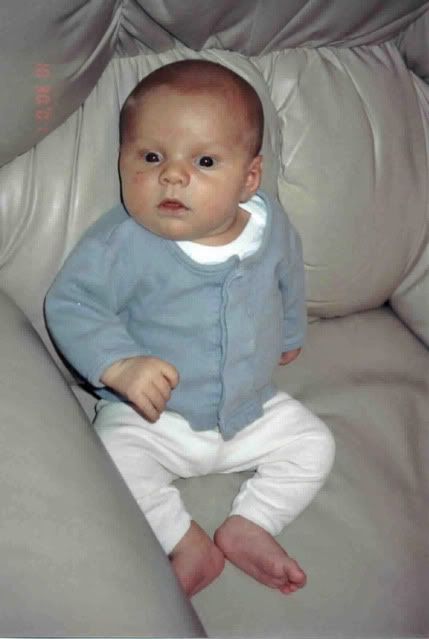 It's still pretty large, but he's grown into it a bit. You know how we have those death trap stairs with huge gaps between the ballisters? I stuck my head through one of the larger gaps to see if it would fit, and it did. Then The Boy tried to stick his through. No go. Hee! We tell him his big head is why he's so smart.
Poor little tyke broke his collar bone during his birth, and then had a series of unfortunate health issues during his first year. We were at the doctor's office A LOT. Like, enough that when we walked in they would call out, "Ohhh! It's THE BOY!" You know you are hanging out somewhere too much when the staff knows you by name.
But, when he was about 11 months old he had surgery and he's been fit as a fiddle ever since. (If you don't count the allergies, which I don't.)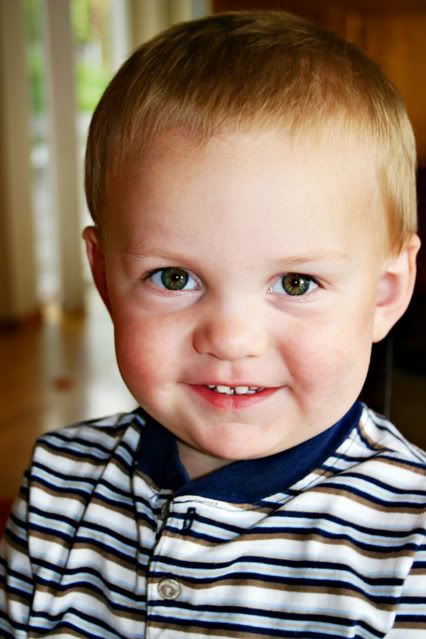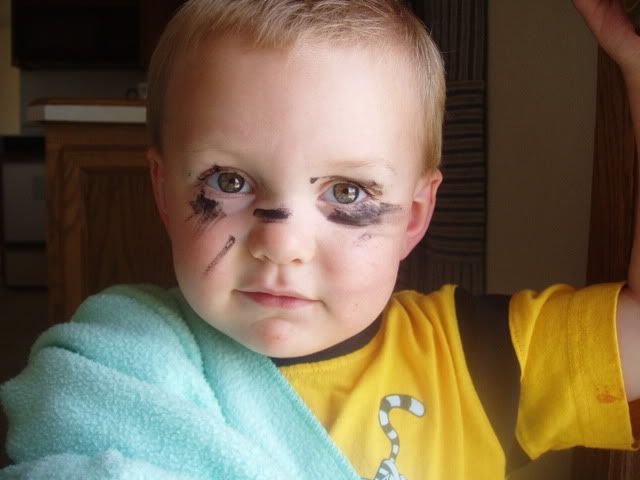 The Boy is ridiculously easy going. I feel like I'm kind of cheating to count him as offspring because he requires almost no care. He rarely complains, barely eats, almost never throws a tantrum or gets dramatic. He has pretty much raised himself, honestly. Too easy. Although, he makes up for his mellowness in his destructive prowess. He gets into everything. As a toddler, he wrote on every surface in the house at least once. The floor, the fireplace, walls, tile, countertops, etc. Destroyed things that the girls never even paid attention to. He had a special affinity for busting apart pens… not sure what that was all about.
But, you can't get mad at him. If he knows he did something wrong, he immediately breaks into tears and apologizes. All I have to say is, "I'm very disappointed in you" and he is crushed. So I have to save that phrase for really serious infractions like crashing the car into the house, etc.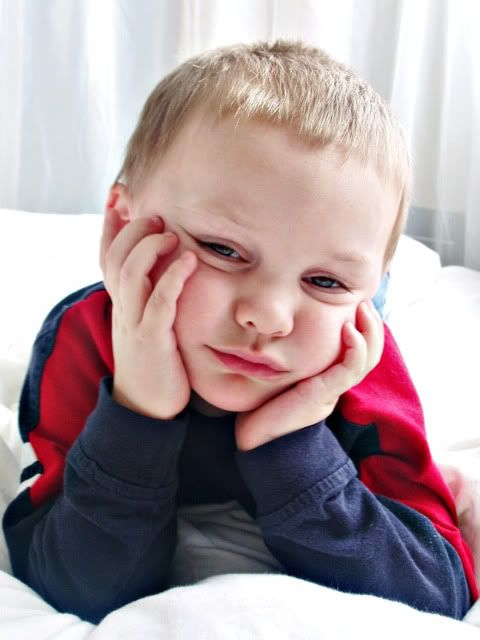 And this is how he feels about my photography. Just thrilled to be my occasional model.
He turned eight at the end of September. He had a Star Wars party that he declared "The best party EVER!!!" He says that about a lot of things. He's not too hard to please. If I make anything with bacon he shouts that I made "the best dinner EVER!!!"
We had the boys make lightsabers out of some foam and duct tape. Don't choose this activity unless you have one adult per child because none of the boys could manage the duct tape on their own. It was a madhouse. They would get bored and start beating each other with their half finished lightsabers.
Then they all got too hot and didn't want to wear the Jedi robes I had made for them. Some kids obviously don't take their Jedi Training very seriously. Tsk. When we went outside to play a game involving keeping balloons off the ground with lightsabers, the wind picked up just in time and blew the balloons 50 feet into the air. One boy was running after his balloon and wiped out at the bottom of our driveway so there was blood everywhere with gravel embedded into his knees. I'm good at parties.
Then another kid ended up getting pummeled on his head with pinata candy and started bawling. Mercy. I don't think I'm woman enough to manage 9 eight year old boys all at once. But, despite me feeling like a complete failure, The Boy still thought everything had gone perfectly. He was on cloud nine.
I gotta admit, I love making that kid happy. He beams and talks excitedly in his high squeaky voice.
Best boy EVER!!!!