So, I started the Friday Pemberley Appreciation posts intending to share something I loved about my house each week for the first year. Now the year is up, so I'm going to retire these weekly posts.
But, as my final installment I will do an update of the work we've done in the last year. And sometime next week I will post the changes we (ahem: I) want to make in the future.
Note: Most of the BEFORE shots were taken before the previous owners moved just because they were the first ones I found.
So, to start out… The first room I completed was the dining room.


Do you see those curtains? My gosh, they were ugly. The grasscloth wallpaper wasn't super offensive as far as wallpaper goes, but it was in really bad condition. (Can you see the water stain below the left window?) And the brass seashell light fixtures were horrifyingly bad.
AFTER:


Now it's blue, so naturally I love it. This room isn't officially DONE, but it is as done as it is getting on our current budget.
Kitchen was Room #2:


The kitchen had red walls and floral wallpaper (not shown) when we moved in. You are either a red person, or you are not. I am not. I am also not an 80's floral wallpaper type person, so it all had to go.
AFTER: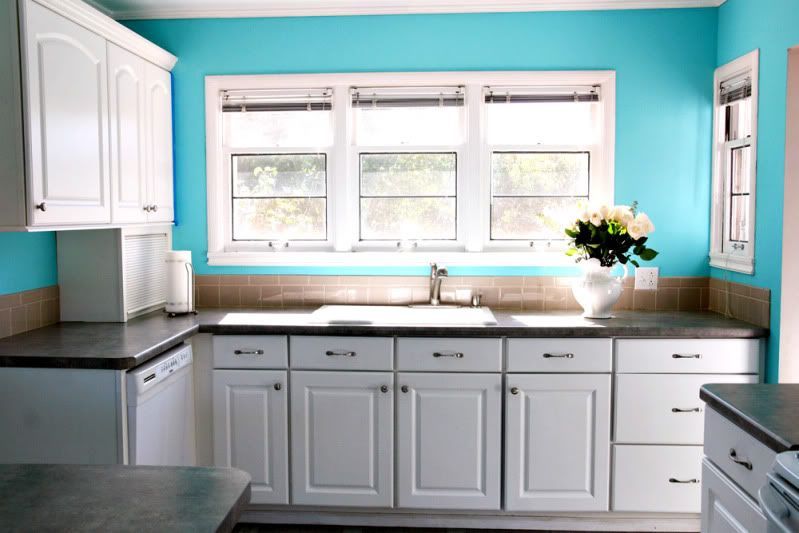 And as always, I painted it blue. It's not quite as intense as it seems in this picture, but it is pretty bright. And I love it. Unfortunately, my counters are not actually that uncluttered anymore. Drats.
Like the dining room, this room isn't where I want it to be, but it will require knocking down a wall, pulling up the linoleum and praying that there are hardwood floors underneath (it could happen, right??), and a little more tinkering to really make this kitchen fabulous. Eh… baby steps.
I finally got up enough courage to tackle my first room with painted wallpaper, so the powder room was Room #3:


It was a brassy golden nightmare.
AFTER:


And now it is simple and bright.
Room #4 was the home office:


I needed a break from wallpaper, so I thought that painting the wood paneling in the office would be easy. Note: It wasn't.
AFTER:


It might not have been easy, but it took what was previously my least favorite room in the house and transformed it into the winner of my affections. I love you, home office.
This isn't exactly how it looks at this precise moment… we moved the piano into the dining room for one thing after enough people said, "FOR THE LOVE OF RAY J, GET THAT PIANO AWAY FROM THAT WINDOW!!!" Also, Kitty has scribbled on my white walls twice with crayon, so that is new. I keep forgetting to buy a Magic Eraser every time I go to the store. Oh, that Kitty! RARRRR!
Moving on…
After a two month break, I was prepared to undertake more painted wallpaper, so Room #5 was the foyerrrrrrrrrrr.


Hideous green faux finish painted on top of two layers of wallpaper. I'm still a little bitter about it.
AFTER:


Oh, that is much better. Now my eyeballs do not try to spontaneously combust every time I walk through the entry way. And since I do not want to pay anyone to paint that stairwell anytime soon, I went with a light, neutral color. I'm still considering hanging a bunch of pictures on the stairs, but it hasn't moved beyond the thinking stage so far.
Then it was finally time to tackle the kids' rooms. The girls were sleeping in a room decorated for boys.

So, we had to girl it up a bit.


Their room is still being tinkered with. Hopefully in a month or so I will complete all the projects I am dreaming up for their room.
And then The Boy needed his girly room nerded up:

And I was more than happy to oblige:


Again, we're still adding some final touches to this room. I have a handful of projects to push it from "Star Warsy-ish" to "I challenge you to find a geekier room than this, you scruffy lookin' nerf-herder!" I am giddy, I tell you!!
So, the final room tackled this year (Room #8 if you're keeping track) was our master bedroom:


Which wasn't offensive to begin with, just rather bland.
AFTER:


And it is still a little bland, but we're working on it. The problem is that I'm also working on completing two other rooms and money is tight at the moment. All of my medical bills started showing up in the last few weeks. So, instead of a pretty bed and new furniture and refinished floors, I got… two MRIs and a spinal tap, and steroid treatments! And those just aren't quite as much fun. (Although, walking is pretty spiffy so I'll get over it.)
Well, this post is ridiculously long, and it took like half my life to type up. I am now pushing 70 years old, I think. But, there it is… My first year in Pemberley. TA-DAAAAAA!!!!!!! Still lots to do, but I'm pretty happy with the progress that has been made so far.